Do you enjoy using Apple Music for streaming, organizing your tracks, and building playlists?
Apple did a good job with Apple music, now allowing you to stream music as a service, and also allowing you to play downloaded tracks, whether they were ripped off CDs or bought from the old iTunes software.
Did you know that you can DJ with Apple Music songs?
This way, you don't have to download a full collection of music and build playlists from scratch.
In this article, you will learn how to DJ with Apple Music!
You will discover the software and hardware you are going to need to get started.
I will also include the legal implications which are important to know when DJing using Apple Music, and I will also share my thoughts on how reliable it is if you decide to use it for DJing for house parties or larger venues like bars, clubs, and events.
What is Apple Music?
Apple Music is an all-in-one music streaming and music player app on your iPhone, iPad, or Mac OS computer.
It is formerly known as iTunes which did not have streaming at the time.
With iTunes, you had to purchase the music, videos, and podcasts one by one.
You could also save tracks from your CDs and other sources.
iTunes was also the platform you would use to download, install apps, and backup your entire iPhone or iPad before, but that feature was dropped now since you can download and manage apps within your iPhone or iPad now without syncing to iTunes.
And ever since iCloud was introduced, all your back-ups are stored in the cloud now with free up to 5GB only, rather than the unlimited memory back up on iTunes.
Some people are happy about the change while others miss the old iTunes.
With Apple Music, you can still do everything that iTunes can do except for syncing your backing up your iPad or iPhone.
However, the biggest change with Apple Music is the streaming.
Now you can stream unlimited music without ads, for a monthly subscription.
You can choose any song you want and download them.
Apple even split iTunes into three separate apps; Apple Podcasts, Apple Music, and Apple TV, which are all streaming services.
Unlike Spotify, where you can listen to music and podcasts on one platform.
With that being said, can you imagine being a DJ and have access to over 4 million songs without downloading them.
You can fulfill any request and play in any venue.
If you are interested in DJing with Apple music, I will show you everything you need and tell you everything you need to know in the next sections of this article.
Best DJ Software For Apple Music
The first thing you should know if you want to know how to DJ with Apple Music is what software you can use.
There may be a ton of different options if you Google "How to DJ with Apple Music," but I did the honor of checking out each of the options so that you don't have to.
Here are some of the apps that I found to be the most effective:
NoteBurner DRM Audio Converter
This software is not a DJ Software, but it is a platform that can help you DJ with Apple Music using the existing DJ software you are using.
What this software actually does is convert the output coming from Apple Music and save it into your hard drive as an MP3 file.
You can effortlessly convert playlists and collections, making songs ready to use.
However, the downside to using this application is the conversion time.
For a large playlist, we are talking about hours, so if you are trying to use this app to convert songs from Apple Music, I would suggest that you do something else while the conversion process is happening.
You can do a little organizing in the house or studio while the playlist you are downloading is playing.
It is something that you cannot do right before your gig or in the middle of a set.
Plus, the process will take up most of the processing power of your computer, meaning you probably cannot work on your computer in the middle of the conversion.
I want to stress this out that this approach is Not Legal.
If you want to do this method for DJing at home it should probably be fine as long as you are paying for Apple Music, but for professional gigs, I do not recommend it.
If you want to DJ with streaming apps legally, you can resort to Djay by Algoriddim. You can use it with non-DRM-supported streaming services such as Tidal, SoundCloud, Beatsourcem, and Beatport.
Pros:
Works with any song
Works with any streaming service
Cons:
Long conversion times
Not legal
MegaSeg
MegaSeg is a lot different than NoteBurner.
It is not an audio converter where you need to process each song you want to use for DJing, it works like a DJ software that you can use with Apple Music without converting the tracks.
This software has found a workaround for Apple's Digital Rights Management. (DRM)
MegaSeg can control Apple Music tracks within the software.
You can play, pause, and cue the tracks easily, and it also allows the use of other DJ-related features such as looping, key locking, and pitch bending.
This software may allow you to DJ music with streaming apps such as Apple Music, but there are still a few flaws.
You can only use it for "downloaded" Apple Music tracks, meaning you cannot choose any song off the streaming list without downloading them on your phone or laptop's hard drive first.
Another ridiculous flaw is that you cannot play two Apple Music tracks simultaneously or transition in between.
With that being said, you cannot DJ with just Apple Music, and you are going to need your own music outside of the streaming app to DJ with Apple Music tracks with this software seamlessly.
This option is also not quite legal, so make sure that you only use it for practicing at home and not on professional gigs.
If you want to DJ at a club or other events there are a lot of sources to get your music from legally.
Pros:
Cons:
Not legal
Can only use one track from Apple Music at a time
Best DJ Controllers For Apple Music
Now that you know what software to use, here are some DJ controllers that you can use with that software.
Choosing the right hardware can get a little tricky.
Apple has strict DRM policies, so make sure you choose the right hardware that is compatible with any software.
Here are your choices:
Numark DJ2GO2
This option works seamlessly with MegSeg.
It is verified by the software and all the controls are pre-mapped to their settings.
All you need to do is connect the USB to the laptop's port, and you are good to go!
It does not take much set up for it to work.
This little device has its own audio interface, meaning the audio goes out directly from the controller and not the laptop.
However, I wouldn't expect it to have top-notch audio quality based on the price, but it would be good enough for DJing with Apple Music at home.
It is a very portable DJ controller that you can take anywhere and fit and any bag.
You can DJ on the plane or while waiting at the airport, just don't forget your headphones.
Pros:
Portable
Easy to set up
Cheap
Built with an audio interface
Cons:
Pioneer DJ DDJ-1000
The DDJ-1000 is a powerful DJ controller that is made for beginners and pros alike.
It is built with tons of knobs and faders and a lot of other features.
You can choose your own displays on the jog wheels, it has a built-in EQ, effects knobs, and it features a high-quality build.
It also comes with 16 color pads for triggering samples, effects, hot cues, beat jumps, and more.
It allows you to be your most creative self and create loops on the fly, and so much more features that pros and beginner DJs would enjoy.
Aside from all the features, the best thing about this controller is the support.
You can use this controller with MegaSeg and map the controls as you would do on any MIDI controller.
You can also use the music you get from NoteBurner and run them on RekordBox, which is Pioneer's premier DJ software.
Pros:
Tons of features
Customizable jog wheel display
16 pads
Cons:
Denon DJ MC4000
This DJ controller is an excellent option for pros and beginners.
It is packed with a bunch of features, and it looks really sleek.
It is durable, and it can surely take a beating even if you perform at different venues every night.
When it comes to features, quality, and reliability, this DJ controller is an excellent choice.
It is compatible with almost any DJ software including MegaSeg if you want to DJ using Apple Music tracks.
It is not a cheap DJ controller, and I do suggest that you maximize its utility with only the best software if you can.
I know that it can be more convenient to get tracks from streaming apps rather than purchase tracks album by album or single by single.
However, if you really want to DJ with streaming apps, I suggest that you use other streaming apps with more lax DRM and restrictions such as Spotify, Tidal, or Soundcloud.
You can DJ with their songs using different apps and one of them is Algoriddim Djay which is available in the App Store for both Mac OS and iOS.
Pros:
Tons of features
Excellent audio quality
Pros:
Complicated for beginners
Laptops for DJing with Apple Music
Here are laptops for Apple Music (not surprisingly, they are Apple laptops):
MacBook Pro
The MacBook Pro is one of the strongest and most powerful laptop options for DJing and overall music production.
It has enough processing power for using DJing software without having any problems, and these laptops already come pre-installed with Apple Music.
MacBook Air
MacBook Air is the MacBook Pro's younger sibling.
It might not have the same processing power as the Pro, but it is still capable for DJing purposes.
It is more of a work, browser, and word processing laptop, but you can still get the fully-loaded version and amp up the RAM up to 16GB so that you can use it for creative and data-heavy software.
Can You DJ with Apple Music on your iPhone or iPad?
You can DJ with Apple Music using your iPhone and iPad with apps such as WeDJ or Algoriddim Djay, but it does not allow you to use the streaming music.
It only allows you to use downloaded songs from other sources.
Apple has a pretty tight DRM, which is probably why a lot of companies are intimidated to make a deal with them.
If Apple decides to make its own DJ software or app, it will probably be the first to allow you to use Apple Music legally with seamless integration.
However, sorry to get your hopes up, but we can only dream about this happening.
Is It Legal to DJ Using Apple Music?
No.
It is not legal to DJ with Apple Music using any of this software listed above.
Although you can DJ with Apple Music with the playlists that you create using songs from a different source, ripping music from its streaming service is legal.
If you want to continue using Apple Music for DJing, it is completely up to you.
Although, I will never recommend it.
Related Questions:
Can you DJ with Apple Music using Serato?
Serato is one of the best and most popular DJ software in the DJ realm.
A lot of pros and beginners DJs choose this software because of its amazing and unparalleled features.
However, in terms of using Apple Music tracks, I don't think Serato has any plans to partner up with Apple anytime soon.
Can you DJ with Apple Music using Native Instruments Traktor Pro 4?
Just like Serato, Traktor Pro 4 does not support Apple Music streaming tracks due to legal matters.
Apple Music has Apple's DRM built-in, and even if you can view your Apple Music playlist within the Traktor Pro 4 software, it will only allow you to use saved tracks that you purchased.
Conclusion: Is Apple Music Good for DJing?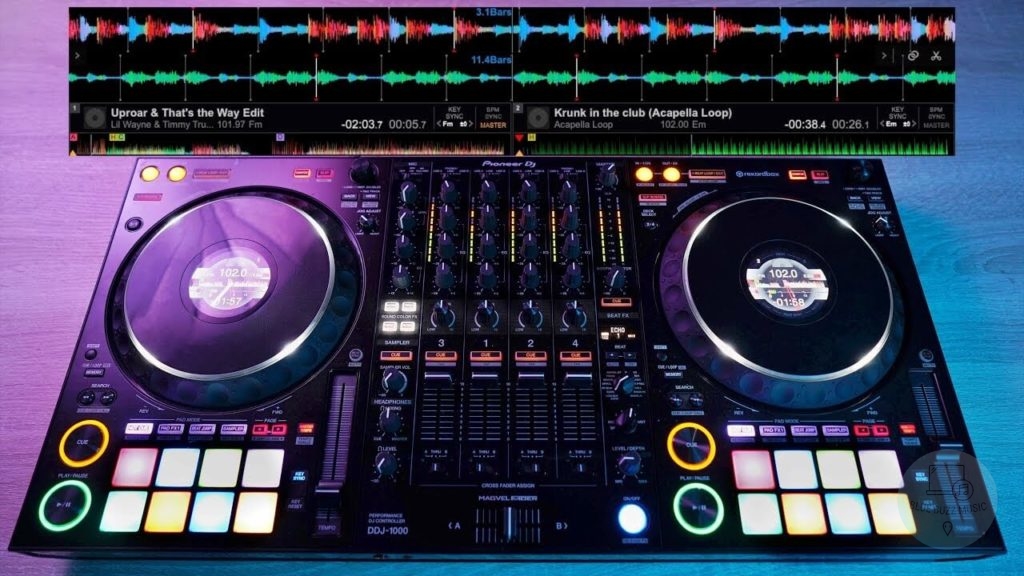 Apple Music is a solid streaming app that you can also use for DJing by using one of the apps and hardware listed above.
You can use it to listen to over 4 million songs from artists all over the world, and that is why streaming apps are more popular than purchasing songs on the internet.
You can still buy physical albums these days because a lot of people still want to have the amazing album artwork on the album cover and add them to their existing CD or vinyl collection.
Now that you know that it is possible to DJ with Apple Music, the real question is, is it any good?
Well, not a lot of professionals use Apple Music for DJing and that does say something.
It never really had a good reputation as being DJ-friendly, but it is still a solid music streaming app.
I do have high hopes for Apple Music to become more DJ-friendly in the future.
There may be some workarounds with using Apple Music for DJing, some methods are rather illegal, and shouldn't be supported.
You can still enjoy DJing with Apple Music at home or at parties with friends.
I hope you learned what you need to know.
Now that you know how to DJ with Apple Music, make sure you do it responsibly, and only use it if it does not affect the legal implications of your DJ license or the venue you will be DJing.
Another thing I want to throw out there is that if you are pretty serious about DJing and want to DJ professionally, you should always get your music through legal channels.
It can be a big investment, but it is the right way, and the only way to make it as a professional DJ.
With all of that being said, I do hope you have fun DJing and see you play in music festivals someday!
Last update on 2021-07-29 / Affiliate links / Images from Amazon Product Advertising API